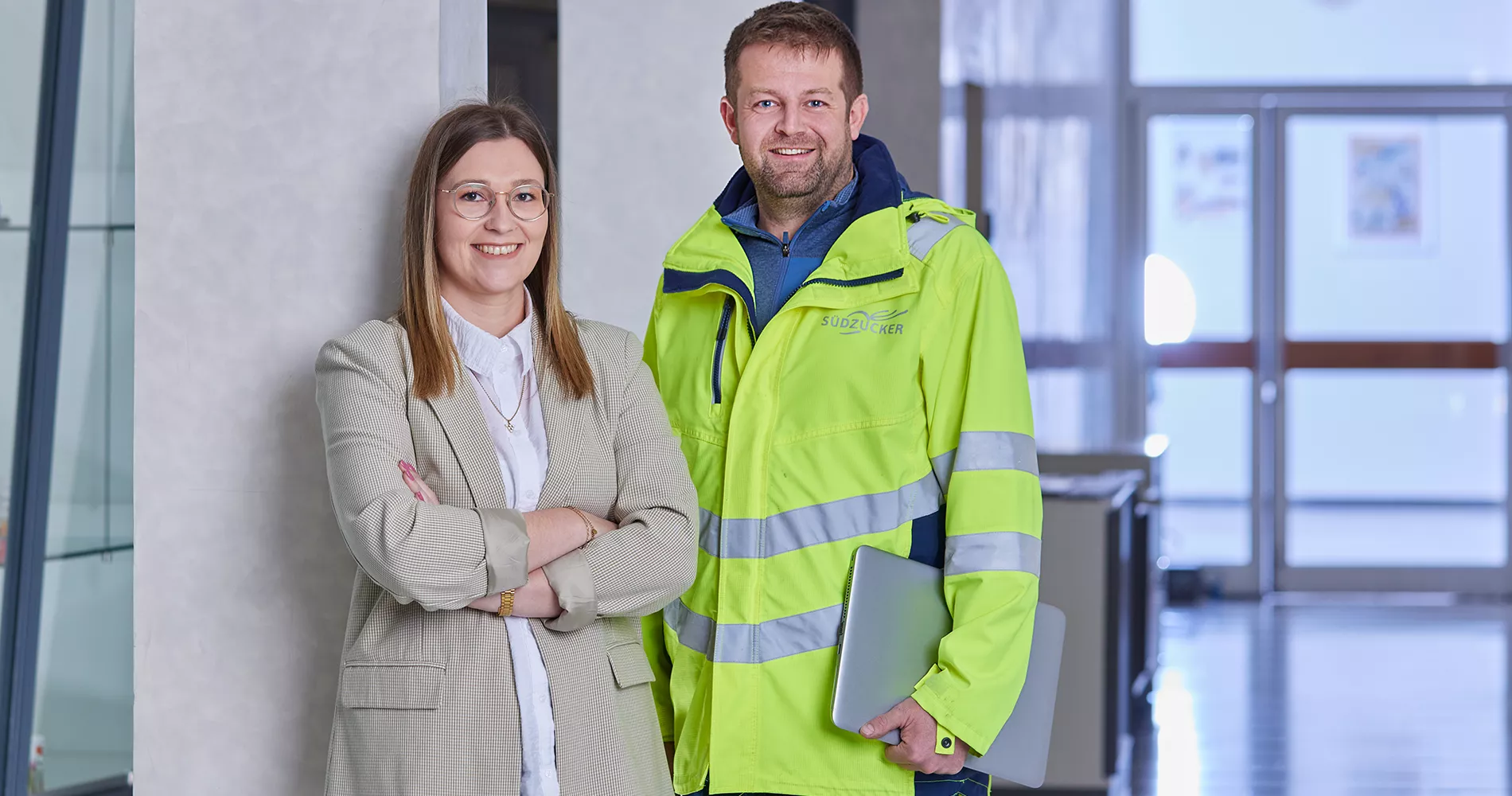 Reasons to join Südzucker
Südzucker's corporate culture based on a combination of traditional and innovative elements tries to maintain established values and to offer modern working conditions.
Our target is that all the employees are feeling good in their job and in the environment of their workplaces. Südzucker is contributing to the balance of private and professional life by offering e.g. flexible working times, home office, etc.
The employees and the teams are encouraged to organize themselves and to take their responsibility. And so they have enough free space to work and to develop. In this context a culture of respect and appreciation plays a very important role. We want to have employees who show engagement and entrepreneurship and we appreciate good ideas. Appraisal and feedback discussions are helping to complete the picture.
All vacancies are announced at first internally and in this way we offer opportunities for a development within Südzucker Group. Supporting internal careers has a high priority for Südzucker. Nevertheless we challenge the employees and they need sometimes a good portion of mobility and flexibility, perhaps also courage. But a lot of examples show that the internal promotion is delivering good results.
Sometimes we use the expression "Südzucker family". We are proud to have this staff and are looking forward to be perceived as an attractive employer.
We can only be successful together in the company if we recognize and utilize the existing diversity. That is why all employees (m/f/d) are welcome at our company, regardless of gender, cultural, religious or social background, sexual orientation or identity, origin and disability. We want to create a climate of acceptance and mutual trust. Because we are convinced that a lived appreciation of diversity has a positive impact on the entire workforce.
Orientation occurs primarily on the job, and is supplemented by seminars and courses. Supervisors and fellow employees are there to support you, both professionally and personally. We understand the importance of proper orientation.
Südzucker is pleased when employees take initiative for their own career development and continuing education. Südzucker offers many in-house continuing education courses. One of the areas we focus on most is continuous training courses on the computer applications used at the company. We also offer regular seminars on communications and leadership, time management, moderation and presentation techniques, foreign languages and much more. We also help employees who want to enroll in external courses.
At Südzucker, supervisors regularly conduct performance appraisal reviews. During these meetings, supervisors and employees discuss performance targets and other initiatives such as:
job enrichment
seminars/training courses
special projects
A customized job rotation program is provided for engineers to prepare them for the production environment and to take on greater job responsibility.
Südzucker's sugar segment conducts business throughout Europe. The special products segment (for example, food ingredients and functional food) is a global player. This international focus means that employees must work closely with all foreign subsidiaries and thus be able to communicate in English. Südzucker promotes the transfer of expertise within the company by delegating employees to its foreign subsidiaries for a period of time.
Most open positions of responsibility at Südzucker are filled from within the company. We do this to foster employees' commitment and identification with the company.
A flat hierarchy ensures that the company can offer a wide range of challenging opportunities and that it remains easy to communicate with key decision makers.
Social benefits at Südzucker AG
Südzucker AG offers a variety of retirement benefit options and makes substantial monetary contributions to provide security for employees with respect to old age, disability and survivor benefits. The elements include:
a well funded company pension scheme (defined benefit) financed exclusively by Südzucker,
a collectively agreed employer-financed pension scheme with normal annual contributions of EUR 650, which are paid into a corporate pension fund,
the option to make additional contributions from salary to boost the contributions to the corporate pension fund.
Employees of Südzucker AG can buy shares at a discount.
Südzucker considers it extremely important that the idea potential of all employees (regardless of position and function) is promoted and used in the best possible way. It is therefore a matter of course for every manager to inspire, promote and provide advice and support for his/her employees' creativity and idea generation.

All employees (including apprentices and interns) can submit ideas for improving an existing condition or procedure/process via the IMA software at any time. At each site, there is a so-called ideas committee that evaluates these ideas and, possibly, awards prizes. A company agreement regulates the submission, evaluation, awarding and realization of ideas efficiently, transparently and according to uniform criteria.
Südzucker AG has an assistance program that offers employees a loan to finance the construction, renovation or purchase of a home under certain conditions.
Südzucker AG offers its entire workforce and retirees the opportunity to take a vacation and relax at one of its three German vacation homes located in Schliersee, Titisee or Wertach.
All unionized employees of Südzucker AG receive a share of profits. The amount is based on the company's dividend distribution.
Südzucker AG has offered its employees very flexible working hours for many years. The aim is to balance the demands of work with private needs as much as possible. With this concept in mind, the program offers:
a generous window for starting and ending the workday
a variety of ways to bank and offset time off
a entire year to reconcile any differences
All Südzucker AG employees receive accident insurance, which provides coverage for accidents either at home or at work, both in Germany and abroad.
Unionized employees of Südzucker AG receive one month's pay as a Christmas bonus.